Are you ready to put down about $100 to $200 on a paintball mask? Don't make the mistake of buying any of the cool paintball masks out there, just because they look attractive. While looks are certainly a factor you can consider, they shouldn't be the only deciding factor.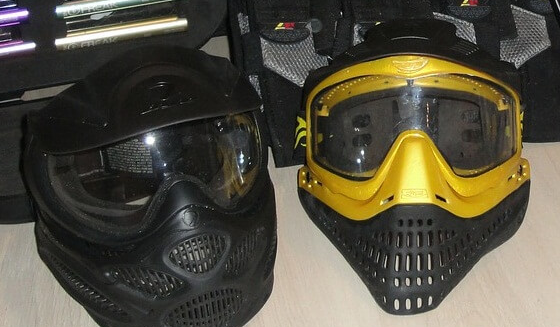 After visor quality and mask safety, the comfort level offered by the mask is of utmost importance. First, look at the quality of the straps used in the paintball mask. They should ideally be about 2 inches wide. The wider the straps, the better they will sit on your head, without moving around as you dive, crouch and crawl on a paintball field. The most expensive masks like the Dye Precision i4 comes with masks that have very soft, padded and lined with foam straps.
Next is adjustability of the straps. While the cheap masks will require you to pull and push on loops to tighten and loosen masks, the more expensive models like the i4 will require you to just turn a dial to tighten or loosen your mask.
This can be incredibly useful if you are the type that likes to loosen your mask once in a while, while you take a breather in your hideout.
Next, look for quality of the foam. You don't want to buy masks with that very thin layer of foam. First of all, such thin layers will usually not last at all. Even if they do, they will be incredibly uncomfortable. Buy masks that have at least a half inch thickness in their foam protection.
Next on the comfort level checklist is breathability. You want a mask that is designed to let hot air out. Without this, your mask will fog up a lot and affect your vision. It will also become very hot, causing you to sweat profusely, causing even more vision problems.